Choose question category and scroll down to see the answer:
Q. How can I improve my account reach? How can I gain more followers?
Here are some ways you can improve your account reach and gain more followers:
Want to know more? You can learn more about Growing on Instagram here.
Q. I am posting reels consistently but still not seeing any follower growth, what should I do?
It's great that you're making the right moves to reach a wider audience by posting consistently, so keep that going! That said, it's important to understand what could be causing a slow growth in followers:
Want to understand this better? You can learn more about Insights here.
Q. I used to get very good reach. Now my reach has declined, why is that happening?
It is common for your reach to fluctuate with time. If it's only been happening for a short while, don't worry. Read on to understand and navigate this:
Want to learn more? Find answers to more such questions here.
Q. Should I experiment with different types of content?
YES! Experimenting helps you find new audiences. And Reels give you a chance to try new things, experiment, and succeed.
Q. Why isn't my video viral now even though it is based on the same concept that went viral once before?
There is no formula to going viral, you just have to keep creating quality content consistently.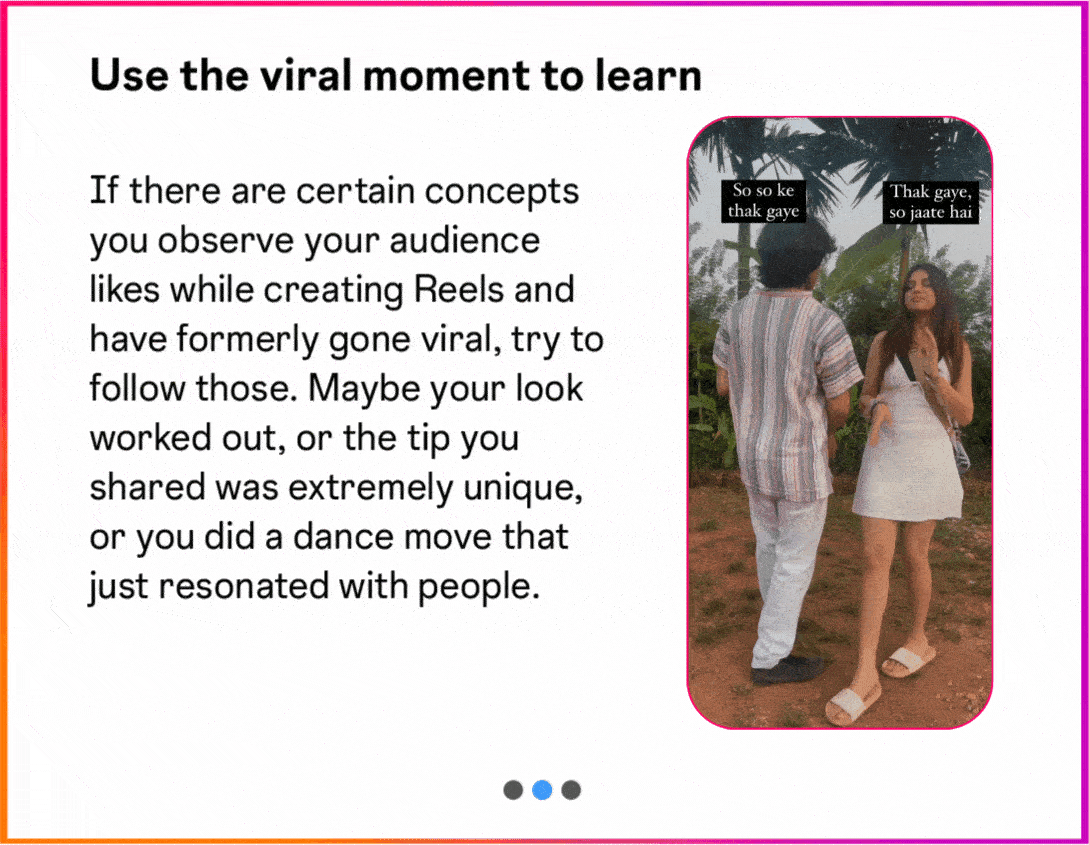 Q. How can I get verification/blue tick on Instagram?
A number of factors are considered while evaluating Instagram accounts to determine if they meet the verification criteria to be eligible for getting a blue tick. In addition to staying up to date with Instagram's Terms of Use and Community Guidelines, the following characteristics are important:

Authenticity: Represent a real person, registered business, or entity.

Unique: Represent the unique presence of the person or business. Only one account per person or business may be verified, with exceptions laid down for language-specific accounts.

Complete: Your account must be public, must have a bio, a profile photo, and be active when you apply for getting a blue tick on Instagram.

Notable: Your account must represent a well-known, highly searched-for person, brand or entity. Accounts which are often featured in multiple news sources are reviewed, and Instagram doesn't consider paid or sponsored media content as sources for review.

If you meet all the necessary account and eligibility requirements, here's how you can apply for a verified badge:

Make sure that you're logged in to the account you're requesting a verified badge for.
Tap profile or your profile picture in the bottom to go to your profile.
Tap 'more options', then tap Settings.
Tap Account, then tap Request Verification.
Enter your full name and provide the required form of identification (e.g. government-issued photo ID).
Follow the on-screen instructions, then tap Submit.
P.S. Verification IS NOT FOR SALE. You cannot get verified on Instagram by paying a third party.
Q. My account got flagged for violating community guidelines, what do I do?
Account Status is the best way to figure out if you've posted something that goes against the Community Guidelines and if it may have led to your account being taken down. Here's how you can see it:
Tap profile or your profile picture in the bottom right to go to your profile.
Tap more options in the top right, then tap Settings.
Tap Account, then tap Account Status.
Here, you'll be able to:
Watch any content (such as posts, stories, or comments) that has been removed from your account for going against the Community Guidelines, which may have led to your account being taken down.
Learn more about why your content was removed.
Access and review Community Guidelines.
Request a review of the decision to remove your content.
If you repeatedly post content that is removed for going against the Community Guidelines, you may lose access to your account.
Q. I cannot access my account, what should I do?
If someone gained access to your account or you're unable to log in to your account, visit this page on your desktop or mobile browser to secure your account.

If you are unable to access your account, there might be some possible reasons for the same:

Username and Password Troubleshooting

If you can't remember your password, you can reset it using your email address, phone number, or Facebook account.
Tap Get help logging in below Log in.
Enter your username, email address, or phone number, or tap Log in with Facebook.
Tap Next and follow the on-screen instructions.
A link will be sent to either your email address or phone number to help reset your password.
Disabled Account
If your Instagram account was disabled, you'll see a message telling you when you try to log in. Accounts that don't follow the Community Guidelines may be disabled. If you think that your account was disabled by mistake, you may be able to review the decision by opening the app, entering your username and password, and following the on-screen instructions.
Q. My account is hacked, what should I do?
If someone has gained access to your account or you're unable to log in to your account, visit this page on your desktop or mobile browser to report the issue and keep your account safe.
Q. Someone is impersonating my account, what should I do?
Instagram ensures safety as a priority. If someone created an Instagram account to replicate your identity, you can report it with ease. If you're logged into your Instagram account, you can report this directly from the app, or you could visit this page on your desktop or mobile browser to secure your account at the earliest.
Q. How does Instagram rank posts, reels & other content?
Here's how ranking works across Instagram, unique for each surface:
Q. Who is Born on Instagram for?
Born on Instagram is a creator-centric platform where one can get opportunities to Learn, Create, Earn, Discover and level up one's creator journey. The program is designed for all creators on Instagram. No matter your background, genre or follower count, we have information to help you learn more about Instagram and "up your game". This includes a self-paced e-Learning course, LIVE masterclasses with experts, latest information on Reel trends, earning opportunities and much more to help you keep up with what's unfolding on Instagram.
Q. What is the creator course?
The Creator Course is a first-of-its-kind, online education course created by Instagram for the creator community in India. It is a complete guide for creators to understand the Instagram ecosystem, the tools available, the community guidelines, best practices for building their presence on the platform, etc. It is delivered with several short modules accessible via the 'LEARN' tab. We recommend that all creators complete this course as the first step in their BOI journey.
Q. What are the benefits of completing the Creator Course?
This creator course is considered complete when you finish watching all the modules that are part of the program. In addition to that, you would be required to complete the assessment at the end of each of these modules. Post completion, you get:
A course completion letter from Born on Instagram.
Tips and tricks for growing your presence on Instagram.
What's new on trends and how you can keep your creative juices flowing.
An opportunity to partner with brands and win cash rewards.
New milestones by adding a 'BOI Recognized Creator' certificate to your profile.
Q. How much time will it take to complete?
On average, it should take you less than 2 hours to complete the entire course.
Q. How much does it cost to sign up for the course?
Absolutely nothing! The course is free and is accessible to everyone that is registered on the Born on Instagram website.
Q. Is this content available in multiple languages?
The content is now available in English, Hindi, Tamil, Telugu, Malayalam, Kannada and Bangla.
Q. I have completed the Creator Course. How do I get my course completion letter?
Once you complete the creator course, you can access your completion letter by going to the 'Learn' page and then selecting 'View Award'. You can also access your certificate in the awards section under 'My Profile'. Make sure you stay up to date with all that's happening on Born on Instagram.
Q. I'm not able to login to the website, what should I do?
If you're not able to login to the website the following might be possible reasons:
1.In case you've forgotten your password you can get a new one by clicking on this link and gain access to your account.
2.If you have registered an inactive email address or changed your email address, you can go to the profile section on the website and update your email address there by clicking on 'Edit Profile'.
Q. If I change my username on BOI, will it affect my performance history with the Instagram team?
In case you plan to change your username, please be assured that it will not affect your performance history with the BOI team.
Q. How does BOI help Creators?
BOI offers everything you need to build your presence and grow on the platform. Creator Course helps you Learn all the tips & tricks you need to succeed on Instagram.

Create allows you to find weekly audio trends and popular challenges to make interesting Reels. Discover keeps you updated on all the upcoming meetups and events.

As a BOI creator, once you complete your creator course you get to be part of various brand opportunities and Earn. ! And all this gets to be yours just by doing what you love!
Q. How do I get gifts, creator meetup invites, and collaboration opportunities from Instagram?
The Born on Instagram (BOI) community is now 250K+ strong! www.bornoninstagram.com is the best way to stay updated on everything BOI. We also send regular emails to the community about relevant opportunities for them. Born on Instagram offers creators a variety of opportunities, such as the learning richly from the creator course, weekly trend updates, online and offline events, cash rewards, BOI Grow program, and much more.

We use criteria such as genre, number of followers, health of audience engagement, adaption of all Instagram tools & features, location, and more to match each creator with the right opportunity for them.

No matter where you are in your journey as a creator, we recommend you to:
Stay in touch with us via the website and emails
Keep up with all the new features on Instagram
Stay consistent
Meta Meetup and Creator Day is our attempt to meet some creators from each region around the country and understand their needs.
For Creator Day and Meetup invites, we specifically look at how active creators are with Born on Instagram and whether they've completed the creator course or not. Apart from that we also look at overall Reel performance. While logistical and security constraints allow us to meet only a limited number of creators in each city, we assure you that your efforts are not going unnoticed and we are working hard to create many more opportunities to interact with all creators from the BOI community, both offline and online.
Thank you for being a part of BOI, a community that continues to amaze, entertain, and inspire us every day.
Q. Have some thoughts to share about Born on Instagram? Give us feedback here.
Feedback